Family Caregiver Ideas | What to Know and Do When Your Loved One Is In The Hospital
I can't count on two hands the number of times Mom has been to the hospital. In the beginning mostly for car accidents from seizures, and then overtime, just for seizures, infections like a UTI which led to sepsis, and then later, pneumonia.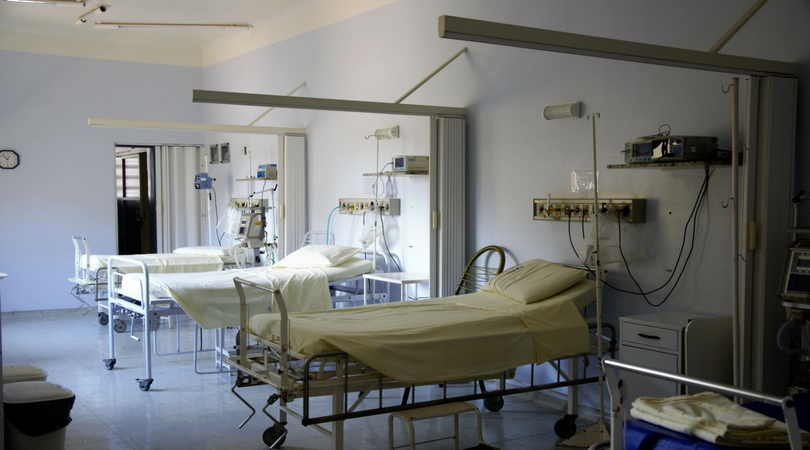 Hospitals are interesting, but for caregivers especially, they can be overwhelming. To give you an idea, the last time Mom was in the hospital, and largely because she can't understand things and speak well anymore, I encountered and spoke with (on Mom's behalf):
E.R. nurse

E.R. tech

E.R. doctor

Hospitalist

Pharmacist

Registration attendant

Attending physician (once she was admitted)

3 to 4 different nurses over our stay there

A nutritionist

A flabotomist

A wound care specialist

The tech who took her for tests

A speech pathologist

A social worker

A Medicare rep

A specialist (pulmonologist)

3 – 4 nurse's aids

2 cleaning ladies

2 food delivery workers from cafeteria
These were all specific to Mom's care and the room where she was staying.
In previous hospital stays, it had been even more people as Mom was moved to different floors, neurology floor to ICU, and so on. Having a loved one in the hospital is tough enough already, but add on the challenge of tracking down doctors, finding out what the diagnosis and treatment plan is, getting to know anyone long enough to feel really good and safe about having your loved one there, and it's a recipe for a stress-fest. In my experience, these are the best go-to tips for caregivers when your loved one is in the hospital:
Be There
Your best bet for getting all the information and ensuring your loved one's care in the hospital is to be there, like all the time. I was fortunate enough to have a remote job, so I could work from the hospital and spend the entire day there with Mom from 7am to 9pm when she went to sleep. Why is this important?
The doctor rarely does rounds on your floor at the same time of day so chances are you'll miss her or him, and it's hard to find out what the updates are – nurses will typically have some answers for you, but if you have questions for the doctor or need elaboration it becomes a waiting game

You know your loved one the best, and your presence there helps the nurses and aids learn what are the best ways to interact, move, and communicate with your loved one.

Nurses, aids, doctors, you name it, they like to see caregivers, be they family or friends, involved in a patient's care and will then feel accountable not just to the patient, but to you as well.

Any history or information the providing medical team needs which your loved one may be unable to communicate (because of their condition, fatigue, confusion, etc) you can relay on the spot without delay to keep treatment speedy.

You'll be present for the onslaught of visits from specialists, social workers, food deliverers, you name it and will be able to get their information, field concerns, ask questions, etc.

You'll be able to learn from the attending nurses and ask them questions, express concerns, and potentially get help for other issues your loved one is having.
Be Prepared
If your loved one is taken to the hospital by ambulance, or if you take them, make sure to bring a packed bag with essentials that will get you by in the hospital and ease up on some of the stressful back and forth that can occur. What should you include:
All medicines your loved one takes at home. Sometimes hospitals might not have a drug or the brand name of the drug your loved one takes and they can file your personal bottle at the hospital pharmacy so your loved one will have all the right meds.

A copy of your loved one's medication list with names of meds, dosing, frequency, etc to hand to nurse, pharmacist, etc.

Something to eat and drink. You might not want to head to the cafeteria until you talk to the doctor and that can take a while. Mom has dysphagia, and we always try and remember her thickened water and juices because the E.R. won't typically have that stuff on hand.

ID and insurance information for your loved one, plus your wallet – some hospitals go ahead and take a co-pay or otherwise for your E.R. visit

Phone and phone charger, plus tablet or computer (most hospitals have wi-fi) or book/magazine.

Your loved one's necessities like incontinence supplies, change of clothes in case they get discharged, glasses case, etc.


Warm socks. Hospitals are cooooold, bring warm socks, sweater, etc for your waiting time!
Get to Know Your Way Around
Getting lost in a hospital, especially a large one, is pretty easy. Getting lost is even more likely to happen when you're exhausted and stressed out from staying up with your loved one who is sick. Learn your way around – art is usually pretty helpful. Hospitals will have framed art up or murals on their walls and billboards to brighten the place up.
Memorize the turns to the cafeteria with what art is on the walls. Use a mnemonic device to remember which elevators to use, for example, in one hospital mom stayed in, her wing was off the A elevators (not the B or J elevators), so I would remember A is for always use those elevators.
Input the name of your loved one's nurse(s) and doctor as well as their room number in your phone. And take a picture of where your car is in the parking deck or parking lot – it's easy to forget where you parked when you arrived at sunrise but aren't leaving until it's dark.
Ask LOTS of Questions
Hospital doctors have a way of breezing in, talking to you, and breezing out before you realize you didn't quite pick up on what they said and you forgot to ask a bunch of things. I got so tired one time of never getting to see or talk to Mom's doctor about her progress when she was in the hospital, so I just joined him on his rounds.
He was "scrumming" with the nursing staff outside each patient's room so when they got to Mom's room I just stepped outside and interjected myself into their circle. The doctor looked at me funny, but I just said I had some questions and I wanted to hear what the plan was. Mom's attending nurses backed me up.
As questions arrive during your loved one's stay, write them down and keep them on you for when the doctor comes by. No visit by the doctor? Ask the nurse to have her or him call you at your cellphone number. I've had many a doctor call me when our paths just never seemed to cross (which was funny because I was with Mom almost every minute of every day of all of her stays).
Don't be afraid to ask "what does that mean?" and "why are you doing that?" and "what exactly is that medicine supposed to do?" A medical team for the most part will understand that you're not questioning their judgement, but that you haven't been to medical school, you need more explanation and want a full grasp of your loved one's condition and treatment.
Final Considerations
Those are the biggies but somehow feel like the tip of the iceberg. Did you know that in 2012, when the Affordable Care Act was enacted, a program called the Hospital Readmissions Reduction Program was set in place to encourage hospitals to buck up their quality of care and patient support so that people wouldn't keep being readmitted? This program was largely based on data from a 2009 report in the New England Journal of Medicine which found that alarming rates of Medicare patients were being readmitted to hospitals within just months of treatment.
For example, almost 20% of Medicare beneficiaries who were seen in a hospital were rehospitalized within 30 days and 34% within 90 days. And over half of all Medicare beneficiaries who had a surgical procedure (and over 65% who had a medical condition) in total were rehospitalized or died within a year.
Astonishing, I know.
What you do as a caregiver in the hospital is wildly important to the future health of your loved one. Unfortunately we can't kick back and let the nurses and doctors take care of it all. Your presence, your knowledge, your confidence in the care your loved one deserves – that will make the biggest difference when it comes to their stay in the hospital.