Family Caregiving Tips | In-home Testing
For a loved one who is "medically complex," long, complicated, and expensive tests can become a common fixture in your caregiving routine. One of the most frustrating experiences we had over and over was having to drag Mom to different radiologists' offices or labs to get test run. Not only did it involve a car trip that wasn't super comfortable for her, but typically the reason we were having tests done is because she was already under the weather and not doing well.
Having to leave the comfort and peace of bed to go sit and wait in a cold, brightly lit office and then get transported from room to room to be poked, prodded, or scanned isn't comfortable for any able-bodied person on their best day, much less someone who is chronically ill, immobile, and potentially suffering from an infection.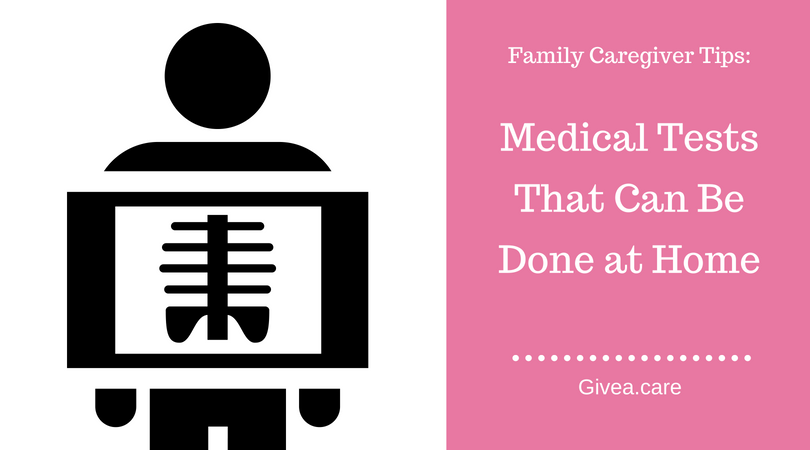 That being said, it was a complete revelation when the family doctor we found in Austin let us know we could get a handful of tests done at home by Mom's home health team – all the doctor had to do was write an order and voila, the home health agency would have a nurse come out or contact a vendor who could supply the service. They would come to administer the test, deliver what they took to the lab, and our home health social worker would call the doctor with results and then fill me in on next steps.
Tests we had done from the convenience of our home include:
Urinalysis – typically a home health nurse will help a patient urinate into a sterile sample cup, or in the case of someone like Mom who was incontinent, administer an "in and out catheter" to gather a sample directly from the bladder. A urinalysis, or UA, helps doctors to find out if there is anything in the urine that could indicate infection like blood, white blood cells, or bacteria.
Blood test – these were often the most tricky because Mom was very small and had "rolly veins," however, if a nurse was unable to draw blood, the home health agency would still contact a third party, like a phlebotomist, to come and try. Blood tests are taken for a variety of reasons; for example, a CBC, or complete blood count, provides a doctor with a comprehensive glance at the cells in a patients blood along with other things like minerals and proteins. Blood tests also shed light on the "levels" of medicine in a patient's blood.
Mobile x-ray – this test was quite possibly one of the most amazing ones we found. Essentially, an x-ray tech brings a mobile x-ray machine to the house and can take chest x-rays as needed. Mom could remain in her hospital bed in her room and I would assist the tech by propping her up and placing the x-ray grids (large boards) behind and beside her. I would step out of the room but call out to Mom to take a deep breath, and the tech with a large safety vest on simply pressed a button to capture the image. It was fast, fairly simple, and results were typically ready by the end of the day.
Stool culture – since Mom was in no condition to get preventative screenings like a colonoscopy, a couple tests we did at home for her were stool cultures. One simply involved using sterile instruments and swabbing a little of Mom's recent bowel movement onto a special board with instructions and then mailing it to the lab. Another was more intensive and involved placing stool in different vials and shaking them up with the preservatives that were already in the collection tubes. We then refrigerated them and dropped them off at a lab within a certain timeframe where they ran cultures to check for infections and other disease-causing agents.
It's miraculous the type of tests that can be administered from the convenience of one's home these days. The thing is, NONE of Mom's other doctor's or specialists ever let us in on this secret even though it was clear getting Mom out and about was very difficult. Thank goodness for our family doctor in Austin who had the forethought to tell us about in-home testing.
The best part about in-home testing is that it helps patients and their caregivers take action MUCH faster than if they had to schedule a doctor's appointment, get a referral, and go to a lab. If I suspected mom had an infection like a UTI, I would call the doctor and ask them to send home health to come take a urine sample. A nurse would come the same day, take the sample, send it to the lab, and often within 24 hours we would get a call with the results. Typically if they suspect infection because they saw blood or white blood cells in the urine, the doctor could go ahead and order antibiotics while the sample cultured for another 2 to 3 days. With a couple of phone calls and a trip to the pharmacy, in one day I could have Mom on the road to recovery, and she didn't have to move from her bed at all.
What other medical tests have you had administered at home?