Family Caregiver Gift Ideas
Do you know a family caregiver you want to treat this holiday season? If you're on the hunt for the perfect gift (that they'll definitely put to good use), don't miss this go-to holiday family caregiver gift guide: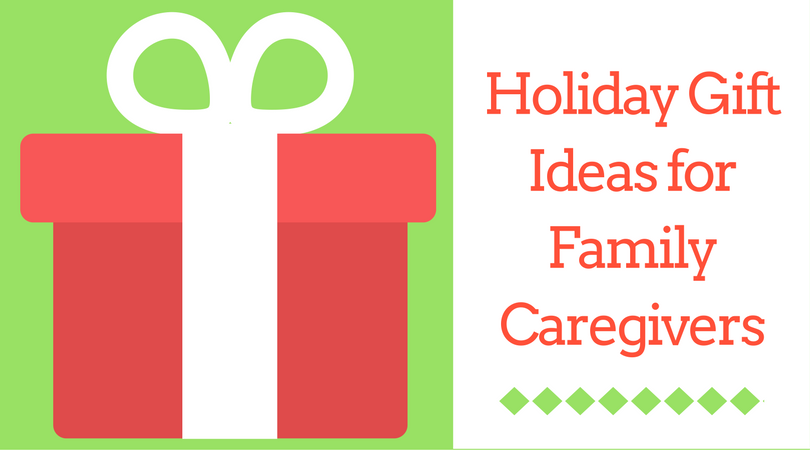 Food Delivery Coupon
While gift certificates and gift cards to local restaurants are always welcomed, I often have a pile that just sit and collect dust because I never really have time to leave Mom and go out and use them (especially if they are for a sit-down restaurant). I think a great gift for caregivers instead is gift cards for food delivery services like GrubHub or UberEats. Being able to not worry about a meal for themselves and instead order food from a local restaurant that gets delivered right to there door can be time-saving and fun for a caregiver to get.
Donation to Charity
The truth is that by nature, caregivers are empathetic givers. Unfortunately, the duties of caregiving may preclude someone from having the time to go out and volunteer at a nonprofit they love. Caregiving also eats up a giant financial burden so having extra income to make a donation to a cause they care about might also be out of reach for caregivers. A great gift I think is to recognize a caregiver's giving nature and gift accordingly – either make a donation in their honor to their favorite charity, or give them a gift certificate to give to others (like you can with DonorsChoose.org or Kiva.org).
Something Comfy
Much of family caregiving is spent shuffling around the home – especially for someone who cares for a medically complex parent or relative. I spend most of my time in the house checking on Mom, making food, feeding her, working, communciating on the phone with doctors and pharmacies, and so on. I have loved the comfy gifts I have received like a plush robe, warm slippers, a cushy sweater, or a great throw blanket for the couch.
Alcohol
While I'm not condoning self-medicating, I do think that a nice bottle of alcohol makes a good gift for a family caregiver – especially something pricier they wouldn't necessarily buy themselves. You can almost guarantee it will get drunk, and it is a small luxury that is perfect around the holidays as people are celebrating.
Massage
The physical strain caregiving requires, from lifting loved ones to repositioning them, bathing them, and so forth is one of the worst out there. A massage will always be a great gift for a caregiver, even more so if you can find coverage for their loved one (or offer yourself) so they don't have to worry about that when they leave to get their massage. Deep tissue massage can help relieve back pain, alleviate stress and muscle tension, and just generally help caregivers relax and encourage them to take care of themselves.
I feel like there are lots more ideas like gourmet cocoa and teas, photo frames, candles, lip balm, and other small things that are just generally well-received by just about anybody. What would you add to the list?