Easy Dysphagia Meal Idea from Give a Care
Finding delicious and savory meal ideas for Mom and modifying them for her dysphagia isn't always easy. As her conditioned has worsened over the years, her strength and ability to swallow has become weaker and weaker. When I find a recipe that has her eating like she used to (because she can't get enough!), I know it's a good one.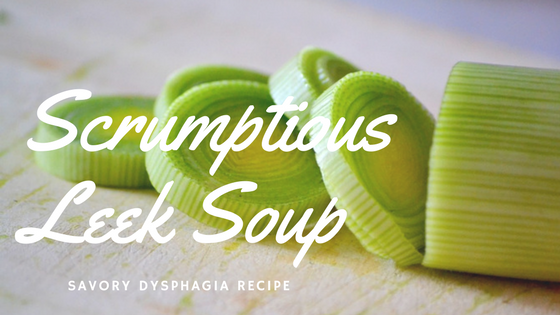 This take on vichyssoise soup has a couple variations depending on what I have handy. The basics include:
1 leek – washed, cut into 1/4 inch ribbons
1/2 white onion – small diced
1/4 c. butter
1/4 c. edamame (optional)
1 avocado (optional)
1/2 c. whole milk or broth
Melt the butter in a medium soup pot then toss in the leek and white onion. Toss to coat and then cover and let wilt for 10 to 15 minutes. Remove the lid and add the liquid you chose, and season with salt and pepper.
Blend with flesh of one avocado and a handful of edamame. The original recipe called for adding russet potato cubes and cooking them down, but blending any soups with potato is incredibly finicky so I stopped incorporating. If you have ready-made mashed potatoes, you may simply stir them into this soup for your loved one to thicken it up!
Vibrant green, savory sweet, and packed with healthy fats and a little protein, this soup is one of our go-to favorites!
Thanks for checking out this dysphagia meal idea from Give a Care. Don't miss our Savory Cream Spinach recipe >